"A great pitch is like jazz"
Leah Hunter is a jounalist, author, speaker, founder and so much more – and on September 19th she is part of the jury of our Startups@Reeperbahn Pitch! In an extensive interview she talks about Hamburg, Austin, what kind of startups she's looking for and why a great pitch should be delivered like jazz music.
Hi Leah, thank you for taking your time for this interview! Would you please introduce yourself to our readers?
I am an ethnographer turned tech journalist, author, speaker, founder, producer…and full-time explorer of the world. I have written about the human side of tech for Fast Company, entrepreneurial women for Forbes and Business Insider Deutschland, and innovation for O'Reilly Media.
I have published two books, Augmented Reality for the Industrial Enterprise published by O'Reilly's Safari Books in April 2017. And Changing Reality for Business: New Augmented Reality Tools for Your Technology Stack published by O'Reilly Safari books in March 2018.I have a third book, The Beautiful Future," coming in early 2019.
I speak on stages around the world about "How To See The Future" and music-tech. I co-founded The Village Couture, a high-end textile art company that does good in the world. And I am currently producing a television show about artists and musicians called Created Here.
How would you describe your relationship with Hamburg and Hamburg Startups?
I have been a mentor for Hamburg Startups at SXSW in Austin Texas for the past two years – mentoring, listening to, and appreciating outstanding German companies creating startups in industries from clean energy vehicles to artificial intelligence.
I've had the pleasure of meeting people like Kerstin Bock who runs Tech Open Air in Berlin and Alexander Schaper who runs the US office of fischerAppelt. I have been exposed to a number of female founders from Digital Media Women. And I've met Hamburg-based global entrepreneurs like Maren & Matthias Wagener from VAST forward—who speak, among other things, on fair trade to empower music creators. (They can also tell you about running a remote-company office…from a boat in the Mediterranean. Who doesn't want to do that?)
As a judge in our jury, what are the things you are going to pay attention to the most?
As a judge, I'll be looking for four things: creativity, scalability and market viability, the strength of the team, and social good. Basically: Is the idea new? Will it make money? Do you have the right people on your team? And does your existence as a company serve the world in some positive way?
Tom Chi, one of the original members of the Google Moonshots team, said something great at an event I attended last week. He was talking about how to create a business model. In the succinct definition he gave, creating a successful business model has only two steps: 1. Meaningfully improve people's lives. 2. Make step 1 cashflowtastic.
I'll be looking for businesses that understand that.
What is from your point of view essential for a good pitch?
A good pitch is all about hitting the notes above. A great pitch is about delivering it like jazz music.
You need to speak to what makes your company unique, how you've validated the idea, what early proof of sales you have and/or research you've done to indicate market interest, what makes your team special. That is the core of any good pitch.
What makes a pitch special is the cadence and power of the delivery and the presenter's ability to go with the flow. A powerful pitch involves having great timing—starting powerfully and ending on time. It is about delivering the message from the heart; remembering why you started the company in the first place and the passion that drove that. And, within the best pitches and presentations, it is clearly demonstrating that you can improvise—effectively addressing any Q&A questions, gliding past any mistakes…and speaking in a way that is so well rehearsed that it sounds effortless. Know your deck. Then let go and let it flow.
What kind of startups are you looking for, and what is more important: team or idea?
I am looking for the brilliant ones.
Team is always the key to long term success. A sustainable business is built by people with complementary skill sets, flexibility, a positive outlook, smarts, stick-to-itiveness, and belief in the company. I read once that company culture is built before there are 5 people in the company.
When people think of technology, they usually think in terms of hardware or software. But broadening that definition leads to some really interesting ideas. Collaboration is a powerful form of technology.
One prize for the winning team is a trip to the SXSW festival in Austin, Texas. You are truly an expert on this amazing event, so please give us some insights on what the winners can expect there.
South by Southwest is a meeting of minds and hearts for the curious, creative, and leading-thinkers in music, hardware, software, social, film, fashion-tech and emerging tech. It continues to evolve—with new tracks like SXSW .edu, focused on innovation in education. Or like the Mercedes me Convention, held adjacent to SX for the first time this year with a wonderful lineup of DJs and events.
Every year, there is something new to discover. Several years ago, SXSW was all about hardware and robots. Last year, it was about global startup ecosystems and the SXSW art program. Those were my versions anyway. Like Blackrock City, or any place really, SX is a world within a world. What you seek to discover there is what you'll find.
As for me: I always discover amazing startups while emceeing for the SXSW Accelerator…meet up with wonderful friends—and make new ones …and find ideas that keep my mind and heart engaged.
All that, while listening to the best music from around the world.
Thank you for the interview!
More about Leah Hunter
Formerly an editor at MISC Magazine and AVP of Innovation at Idea Couture, Leah has spent her career exploring the intersection of technology, culture, and design. She has created brand strategies and new products for everyone from Apple to Target to Sephora. She was part of a team honored at the Obama-era White House during the national day of Civic Hacking as a "Champion of Change."
When she's not doing the above, you can find her: helping to lead IDEATE, a camp of entrepreneurs and world-changers at Burning Man; judging for orgs like the SXSW Accelerator and the Roddenberry Foundation Prize; doing on-air journalism and emceeing events; modeling; or teaching MBA courses and workshops on wearables and ethnography/deep observation at California College of the Arts, CEDIM—Mexico, University of California Berkeley, and The Stephen M. Ross School of Business at the University of Michigan.
Apply now for the Startups@Reeperbahn Pitch 2018!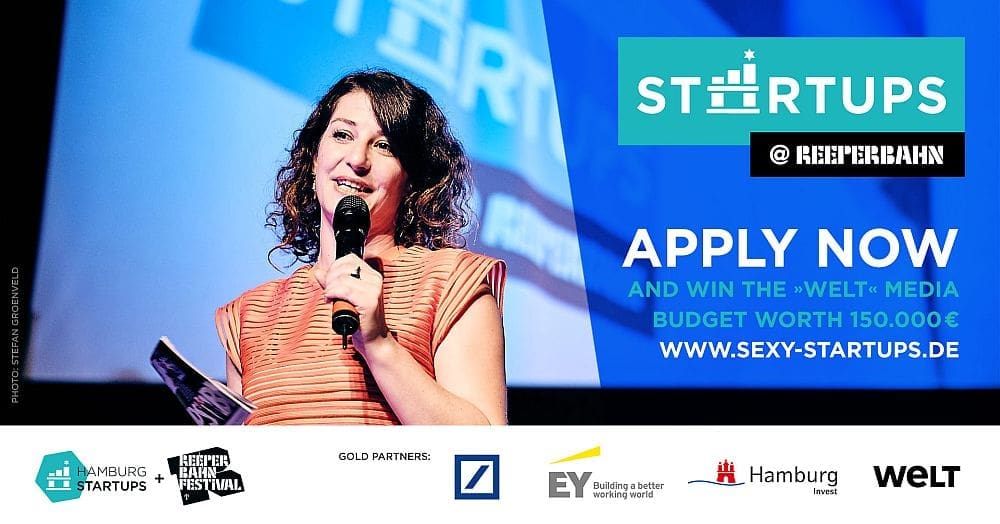 On September 19th, 2018, the sixth edition of the Startups@Reeperbahn Pitch will take place at the Hamburg music club Gruenspan. Five startups from all over Europe will present themselves to a top-class jury at the competition organised by Hamburg Startups. The winning team gets the WELT Media Award – a media budget worth 150,000 euros – and a trip to the SXSW Festival in Austin, Texas. Application deadline is August 10th. Here you can find all further information about the event. What happened at the Startups@Reeperbahn Pitch 2017 is shown in this video:
Startups@Reeperbahn 2018 – APPLY NOW

+++ STARTUPS@REEPERBAHN 2018+++ APPLY NOW ++++On September 19th 2018, the sixth edition of the Startups@Reeperbahn Pitch will take place at the Hamburg music club Gruenspan during the legendary Reeperbahn Festival. Five startups from all over Europe will present themselves to a top-class jury at the competition. The winning team wins the WELT media award – a media budget worth 150,000 euros – and a trip to the SXSW Festival in Austin, Texas. More than 150 investors are waiting to get in touch with the finalists. Application deadline is August 10thEN: http://en.hamburg-startups.net/startupsreeperbahn-version-6-0/DE: http://www.hamburg-startups.net/startupsreeperbahn-2018-pitch/

Gepostet von Hamburg Startups am Donnerstag, 12. Juli 2018