Three cheers for the STARTERiNNEN 2021!
The decision has been made! After a pre-selection by a board of trustees and the vote of our readers, a jury of experts awarded the title STARTERiN Hamburg 2021 to three strong women in a high-class pitch final: Yesica Rios of JOBMATCH.ME, Madeleine von Hohenthal of Bracenet and Britta Wiebe of Vulvani. Find out what makes them and the other finalists stand out in our follow-up report!
You can watch the whole STARTERiN pitch here!
The jury was looking forward to six great candidates
More visibility for female founders – that was the mission of our STARTERiN Hamburg 2021 competition. Sina Gritzuhn, Managing Director of Hamburg Startups, made it clear in her opening remarks that we still need more female entrepreneurs, but that there are also already more than many know. Up to a quarter of all startups have at least one female founding member. Thus, at the beginning of the competition, there were well over 150 women on our list, and after a multi-stage selection process, six female candidates now competed in three categories in the final.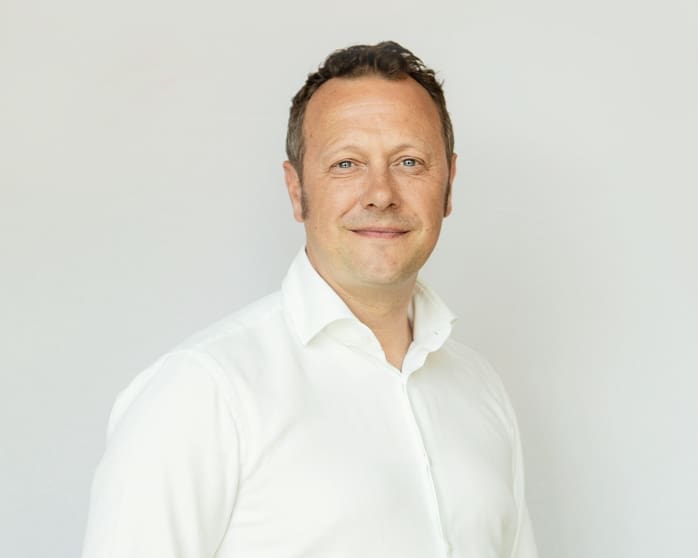 The winners were chosen by a jury of four. It included Stefan Haßdenteufel, Managing Director of DS Impact, an investment company that manages Ralf Dümmel's deals from "Die Höhle der Löwen," among others. Enya Neumann, who heads the academy of IT service provider ADN Distribution GmbH, paid special attention to technical issues. Janina Lin Otto, head of the Holistic Foundation, focused primarily on aspects of sustainability. The quartet was completed by Fabian Wüllenweber from the tax consulting and auditing company ba group. After a brief introduction of the four, the pitches began immediately:
Winner in the Tech category: Yesica Rios from JOBMATCH.ME
Lisa Dahlke, one of the founders of Localyze, started the Tech category. This startup makes it easier for companies to let employees from other countries settle in Germany. Internationality and female power characterize Localyze. In addition to Lisa, Hanna Asmussen and Franziska Löw are also part of the founding trio, and together they have lived in 15 countries. The entire team combines 12 nations and 15 languages and is 70% female. Business figures are also impressive: over 100 companies have used the service so far, and sales have already tripled this year. The next goal is to boost international business and help with the complications caused by Brexit, among other things.
With impressive numbers, Yesica Rios, CMO of JOBMATCH.ME, was also able to perform her pitch. This startup specializes in non-academic professions, without which everything would go down very quickly, as Yesica made clear. The industries JOBMATCH.ME focuses on are logistics and healthcare. Meanwhile, every third truck driver in Germany is registered with the platform, every four minutes a client applies there, more than 1,000 companies are customers. The application process uses a query mode that compares the requirements and qualities of employees and employers and finds the best combinations.
Two digital solutions for the world of work, two startups that already have a track record of success – the jury's choice was not easy. In the end, it chose Yesica Rios and JOBMATCH.ME because it saw even greater potential and higher social relevance here.
Winner in the Commerce category: Madeleine von Hohenthal from Bracenet
The first pitch in the Commerce category was about men for a change. apartmen, the startup from Louisa Verch, helps men furnish their homes. Louisa has always been interested in the furniture industry and also founded the Women in Furniture network. At apartmen, she uses cutting-edge technology to find the right furniture for her customers. All they have to do is answer a few questions about their preferences and needs, and an artificial intelligence system then makes suitable suggestions. Augmented reality can be used to see how the furniture would look in the apartment. Around 100 customers have already used the service, and more than 15 partner companies are on board so far.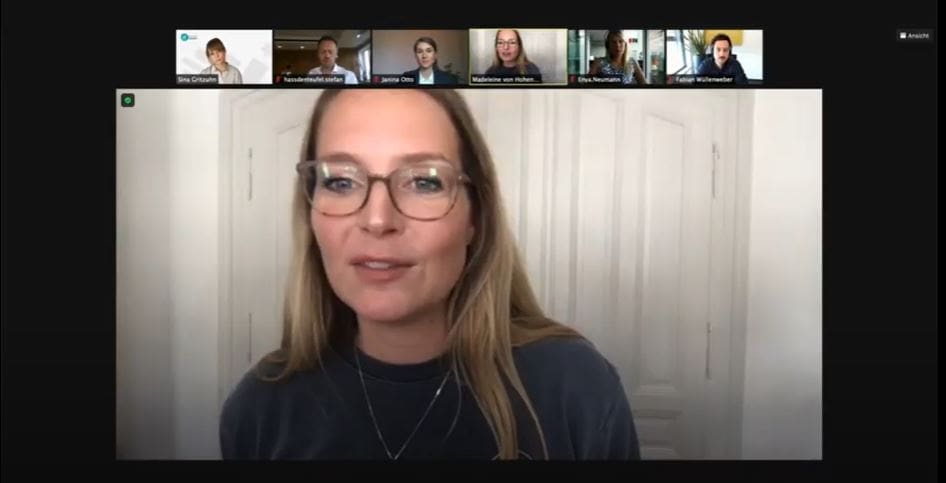 Most people want to live more sustainably, but putting this into practice is not so easy, as Madeleine von Hohenthal illustrated with a number of examples. Plastic waste is one of the major problems of our time. With her startup Bracenet, Madeleine has found a way to make a contribution against the pollution of the oceans. Bracenet turns old fishing nets into beautiful and useful products such as bracelets, dog leashes or mask necklaces. Five tons of plastic waste have already found a new use this way. Bracenet employs a 35-strong team in Germany, creates work in countries particularly affected by littering and donates part of the sales proceeds to environmental organizations.
In this category, the jury chose Madeleine von Hohenthal and Bracenet because they were convinced by the environmental benefits combined with a functioning business model.
Winner in the category Impact: Britta Wiebe from Vulvani
This is a good transition to the third and final category, in which Bracenet could also have competed. Impact is about social changes and topics that deserve more attention. For example, menstruation, sexuality and female health, which are the topics that Vulvani addresses. Britta Wiebe's startup went online this spring and aims to educate and break taboos in an entertaining way with web courses. This includes photos for mentstruation without the usual blue replacement fluid. After only a short time, Vulvani has already received 20,000 page views per month, which shows how great the interest and need are.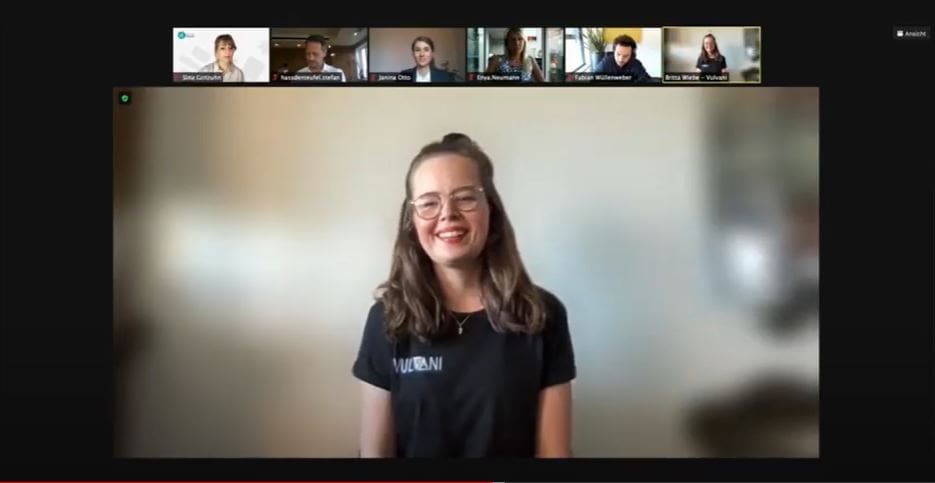 For all founders, their startup is also a personal concern, but for Sandra Brunner this is especially true. einzigNaht produces clothing for children with disabilities. Sandra's daughter Laura suffers from a rare genetic defect and you could see the emotional involvement in every sentence of the pitch. At einzigNaht, all pieces are custom-made, because different disabilities require different functions and designs. Much of the startup's work is still done on a volunteer basis. Sandra has set herself the goal of employing people with disabilities, to achieve recognition by health insurance companies and to enable a piece of normality for affected families with her clothing.
This was a particularly difficult decision for the jury. The more comprehensive approach ultimately tipped the scales in favor of Britta Wiebe and Vulvani, but Sandra Brunner can also count on the support of the jury members.
Valuable prizes are waiting!
The winners in the three categories can not only adorn themselves with the title STARTERiN Hamburg 2021, they and their startups will also each receive valuable prizes:
A Media Bundle from Hamburg Startups worth 1500 euros including club membership for one year.
A four-hour free consultation from the ba Group.
One ticket for the GreenTech Festival in Berlin.
A workshop for technical support for Microsoft Azure from ADN Distribution GmbH.
A business shopping voucher worth 200 euros from REWE Nord.
A very big thank you!
So that was it, STARTERiN Hamburg 2021! The great response during the entire campaign period showed us how strong the interest in more visibility for female founders is and how strong female founders are in the Hanseatic city. Our heartfelt thanks go once again to our premium partner ba group and the other supporters willy.tel, Hamburg Invest, ADN and DS Produkte. Without them, this competition would not have been possible! The same goes for our board of trustees and, last but not least, for our many readers who diligently made suggestions and voted. We can promise you all: We will continue to ensure that female startup founders get the attention they deserve!