AIRY – a flowerpot for the health of people
Flowerpot-startup – at first this doesn't sound very exciting. But AIRY is much more than that, even though the focus is really on a flowerpot. However, that pot is unique and can help to improve the health of millions of people.
Peer-Arne Böttcher has already experienced a lot in his professional life. At the tender age of ten, his career as a journalist began with a paid chess column in the Glinder Zeitung. At 19 he published a book for which celebrities had painted lighthouses. He was a travel reporter, managed a corporate communications agency together with XING founder Lars Hinrichs, founded an investment company in 2002 and the Business Club Hamburg in 2008. And he of all people should be interested in a flowerpot?
Helge Knickmeier has been an allergy sufferer since childhood, especially pollen and solvents cause him trouble. Relief comes from thoroughly purified air, which plants provide most reliably. However, only a small part of the pollutants are absorbed by the leaves, while the roots do this most effectively. But in conventional flowerpots, they are largely isolated from the outside world and air can hardly get close to them. Helge therefore developed a pot with a simple and groundbreaking ventilation system.
A NASA study was the impetus
When Helge presented his prototype more than four years ago, at first it reminded Peer-Arne of a children's toilet. This first impression did not stop him from seriously dealing with the subject though. A NASA study provides the most important information here. It has long been known that plants use photosynthesis to convert carbon dioxide into oxygen via their leaves. What was new was the discovery of how strongly they purify the air of fine dust and volatile organic compounds (VOCs). The exposure caused by these pollutants is often considerably higher in enclosed spaces than even in the busiest streets of large cities.
VOCs vaporize from solid and liquid materials found everywhere in the household. What is a burden to humans is literally a good fodder for plants – they only have to get to the substances with their roots. The pot developed by Helge uses the so-called chimney effect for this purpose. "Through three lamellas in the lower part of the pot, air can rise between the inner pot and the outer shell and exit again through openings at the edge. "
AIRY on its way to a IoT-startup
This description is taken from a brochure by AIRY. That's the name of the startup that Peer-Arne and Helge founded in 2015, together with Kai Pohlmann, who has since retired from operations. Right from the start, the young company attracted attention with a Kickstarter campaign and delivered the first pots to its supporters at the beginning of 2016. There are currently two basic models, the medium-sized "pot" and the large "box", which, in the meantime, have been awarded several design prizes and are protected by patents. A smaller model will be added very soon.
It quickly became clear that AIRY's customers were not real plant lovers and needed advice. Therefore, they can now order mineral substrate and four different pot plants via the online shop, so they get the complete package. But the market potential is far from exhausted. It is no coincidence that the company with its full name is called "AIRY GreenTech GmbH", because it sees itself becoming an internet of things startup. Whereby the "things" in this case are plants.
The cooperation with Saarland University represents a major step in this direction. There, a sensor technology has been developed that enables measurements in the ppb range. ppb stands for "parts per billion". This technology brings enormous progress, because ppm, i.e. parts per million, has been the standard so far. The new accuracy in measurement is necessary for a meaningful analysis of room air. AIRY has now built the right instrument for this purpose and is about to go into series production. The target group is primarily companies that can use it to measure air quality at the workplace and equip themselves with plants according to the results.
Enthusiastic customers became sales partners
So far AIRY has mainly earned its money with end customers, exclusively through the online shop and without any significant marketing measures. However, there are sales partners all over the world, some of whom are of deep convincement. These include a mother from Germany, whose child can finally sleep through after years of sleep problems thanks to AIRY, and a man from Chile, who used to need a stack of medications for his allergies. Now he can do without them.
AIRY currently has six permanent employees, eight shareholders and four million euros in equity. Entry into the retail trade is imminent. In this situation, further capital from investors would be welcome. With DS Produkte, the company of TV lion Ralf Dümmel, a powerful logistics partner has already been found. The PR machine also starts up. There will be several appeareances in popular TV shows soon. Like many ambitious founders, the producers of AIRY not only want to earn money, but above all to make the world a little better. They have found ideal allies for this in foliage plants that can prosper in every apartment and every office.
AIRY will be part of the Hamburg Startups delegation that is visiting the South by Southwest festival in Austin, Texas in March 2019.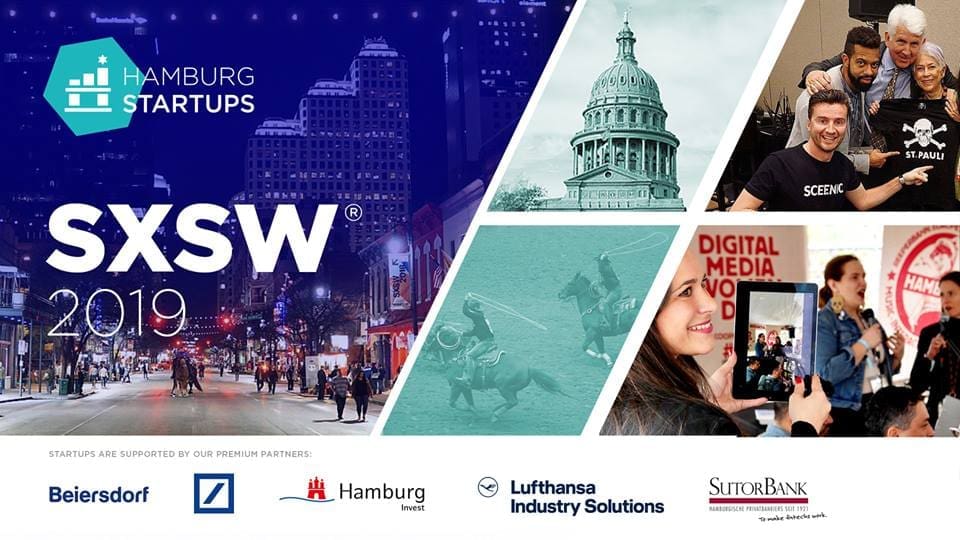 Traditionally, Hamburg startups have made an excellent impression at the South by Southwest Festival (SXSW) in Austin, Texas. Hamburg Startups is an official partner of the event and reports about the SXSW adventures of the largest delegation we have accompanied so far, which we actively support on site. Our grandiose partners from Deutschen Bank, Hamburg Invest, Beiersdorf , Sutor Bank, Lufthansa Industries Solutions as well as EY and Vast Forward make this possible and we would like to thank them very much!
Photos: AIRY GreenTech GmbH