The Festival South by Southwest (SXSW) in Austin, Texas is a popular destination for startups. Some badmouths claim, that the trip to the USA would mainly be a fun trip. But the story of JobMatchMe proves the opposite; this Hamburg-based startup managed to attract five new business angels on its way to and in Austin.
JobMatchMe offers a platform for non-academic professions, that brings together employees and employers. Candidates have to answer a few questions, which lead to a personality profile. This allows the optimal matching to a job vacancy. At the moment, the startup company with its TRUCKJOBS brand is focussing on the placement of truck drivers with growing success. The company, which was launched in 2017, already has more than 20 employees. A third of them work on the further development of the software, which uses elements from artificial intelligence.
JobMatchMe has quintupled its revenue in 2018
It is not that difficult to win new developers for JobMatchMe, the founders Daniel Stancke and Dr. Gunnar Wrobel explain. Both know how to attract new employees for their business. That applies to customers as well. More than 1,200 have now registered and far more than 200 are currently active. The number of registered drivers is reaching the 100,000 mark, with an average of 6,000 being added every month. So much popularity has led to a quintupling of sales in 2018, compared to the previous year. The million mark has been exceeded, too.
A supporter from the beginning is Dr. Olaf Ringelband. As an investor, he not only brought in money, but also his outstanding know-how as one of Germany's leading HR experts. On March 7th, 2019, Olaf started his journey to SXSW and took the special flight LH 448, non-stop from Frankfurt to Austin. On board, the passengers were put in the mood for the world's largest cultural and digital festival with a programme of lectures and shows. Even more interesting for Olaf, however, were two people, who had also booked this flight and with whom he got into conversation on the way.

Both have leading positions at the auditing company Deloitte. Florian Schültke is Lead Partner of Deloitte Digital Studios in Germany, his main focus, as described on the company's website, is "developing and managing global marketing programs for leading global brands." Andreas Harting is a partner at Deloitte Digital and co-head of Deloitte Digital Studios in Germany and "has twenty years of entrepreneurial and operational consulting experience ranging from corporate investment to managing global operations for multinational companies."
In Austin, everything happened quite fast
Already during the flight Olaf was able to convince the two managers to take a closer look at JobMatchMe. The first follow-up meeting took place in Austin at the same evening. Daniel and Gunnar, who had joined the delegation organized by Hamburg Startups, had also arrived there in the meantime. The next Monday, March 11th, there was another spontaneously arranged meeting at the Hilton. Already after half an hour it was clear to everyone: It all ads up!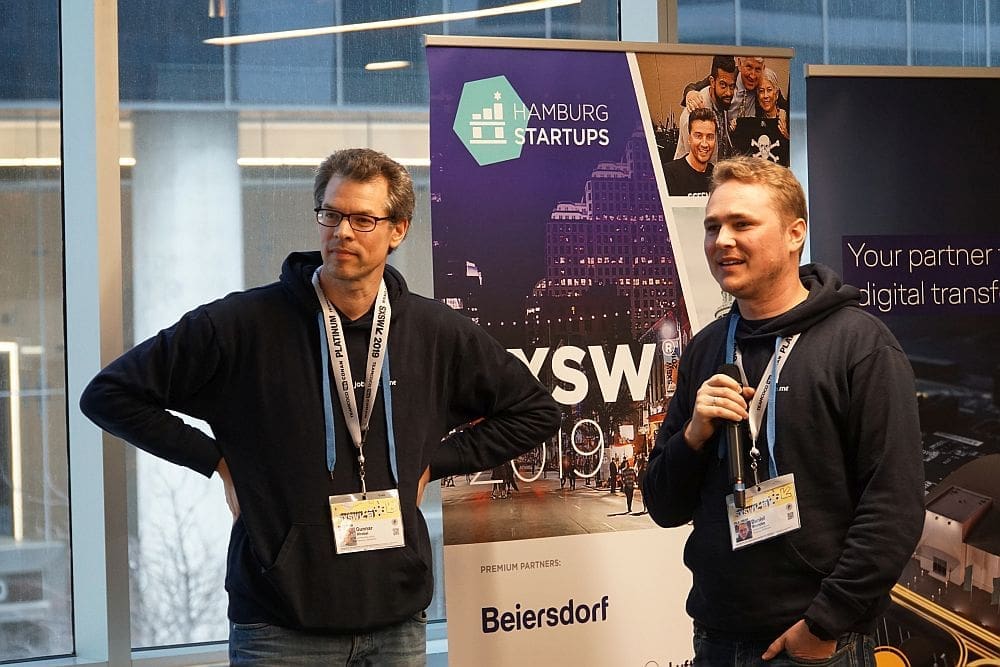 Thomas Zorbach, founder and CEO of the marketing agency vm-people and Sven Heitsch, former Vice President Digital Fleet Solutions at Lufthansa Technik, were also present. The four gentlemen all met through Deloitte and have been travelling to Austin for years. This joint investment is however a premiere. The fifth new business angel to join them was Natanael Sijanta, Head of Global Marketing Communications at a leading car manufacturer.
Making the most of the Hamburg Startups programme
The top-class quintet has joined a convertible loan in the upper single-digit million range and is expected to help secure the next round of financing for JobMatchMe with its network. It is one of the most popular SXSW clichés, that Germans fly to Austin in order to meet other Germans there preferably. As you can see, this is not so incorrect and in our case it even makes a lot of sense. For Daniel and Gunnar the trip was more than rewarding, considering the five business angels. But that was by far not everything. The two of them made the best use of the program put together by Hamburg Startups. They participated in all the pitches and gained a lot of experience and contacts.

JobMatchMe will certainly expand its concept into further industries in the future. After the trip to Texas, however, it is by no means unlikely, that the internationalization, of which all startups dream of, is about to happen. After all, the USA is the land of truckers. If this requires another trip to SXSW, Daniel and Gunnar are definitely ready and suggest all founders to take this unique opportunity as well.