SEO HH – meet the SEO rock stars of Hamburg
There is a tradition in Hamburg you might not have heard of. Every third Tuesday of the month, around 7pm, around 50 people gather to listen to Florian Elbers and Anita Böhm's gospels. A new sect in town? Far from it. These meetups are free, anyone can join and participate. The reason why Elbers and Böhm are so avidly listened to, is that they know about SEO. A whole deal about it.
SEO? Search engine optimisation. Still frowning? Basically it's about making Google love your website and bring a lot of users to it. Whatever your business is, I do not really see how the topic could not be relevant to you. You can hire an SEO consultant to tune your site to reach the cutting edge of SEO (usually for a lot of money) but you can also do a lot of things by yourself. That is, if you know what and how. And a lot of people are surprised about how fast and easy it is to optimize your website. A few things here, a bit of work there, and you might already notice an increase in traffic within a few days. Even if you have a leisure blog, there is hardly anything more pleasant than noticing a rising amount of readers.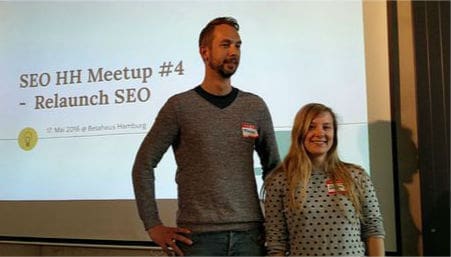 Rookie or veteran, you should join!
Each monthly session deals with a part of SEO. Indexing, link building, SEO tools, onsite optimisation, meta tags, etc. These words look like Chinese to you? No problem, our duet will cover the basics so that nobody feels left out and are always happy to answer any question from the audience.
Already an experienced online marketing player? Don't think you should not join! It is the perfect opportunity to refresh your ideas, learn about new trends, analyse marketing cases, and, of course, meet new people to confront your opinions. "There is a lot of misunderstandings and myths about SEO," declares Böhm, SEO consultant at Wingmen. "The problem is that many beginners might believe these and get the wrong idea. We want to bring a bit of order in the conception of search engine optimization."
A incremental success
The group HH SEO was founded last year via the organisational platform meetup.com. In spite of being a great tool for communication and gathering people, many of these groups die out after one or two meetings. Not with Florian and Anita, who gather more and more members, session after session. "There are too few events about the topic despite a strong interest for it", confirms Elbers, SEO manager at Computer Bild. "Our group has almost 400 members and the feedback we receive has been really positive."
Thank you for your answers and your hard work, Anita & Florian!