How Sceenic experienced the Startups@Reeperbahn Pitch 2017
The application phase for the Startups@Reeperbahn Pitch is currently underway again. In 2017, London startup Sceenic took part in the competition and reached second place. CEO and co-founder Paul Bojarski tells us in an interview how he experienced the event and how Sceenic has developed since then.
Hi Paul, thank you for taking your time for this interview! Can you please tell us what your startup Sceenic does?
Sceenic has re-invented how we watch TV and online video by enabling people who are physically apart to watch television and online video together. Sceenic provides its "Watch Together" solution to media companies ranging from telcos to broadcasters. You can see the experience in this video:
How did you learn about Startups@Reeperbahn Pitch?
As I was living in Hamburg, I followed closely Hamburg Startups and that's where I found out about it. As the jury was of a very high calibre and the previous years the event was very successful, I really wanted to be a part of it.
How did you preparefor the event?
I first researched the jury and the sponsor companies QVC and WELT, so I made the presentation specially for them. This meant ending the presentation with a visual example of how our technology could enhance the QVC and WELT video experiences. Plus not many people know  this, but I actually cancelled a business trip to New York and moved it to three weeks later, in order to attend the event.
How did you experience the event itself?
I have to say the networking and attendees were of a very high calibre, so we networked with Deutsche Telecom, QVC, Welt and other potential clients which was really great to be able to have those meetings and conversations at the executive level. Also, I met the entrepreneurs from the other startups, we became friends, shared tips and inspired each other.
What happend after the pitch? How did it affect the success of Sceenic?
We had an interview with Mopo (Hamburger Morgenpost, a local newspaper) which gave us a lot of exposure in the eyes of potential clients and investors in Germany. I remember people kept emailing me saying "Woow you are in Mopo today". So that helped a lot and then the evening networking dinner, again was filled with many investors and clients, so it was a very productive networking session were we developed a very close relationship with Welt and eVentures with whom we are currently discussing an investment opportunity. We also developed a closer relationship at the dinner with the Welt Investment manager and continue talks there.
One prize for the winning team is a trip to the legendary SXSW festival. You've been there this year too. What can the winners expect in Austin, Texas?
It was our first time there with my co-founder Jonathan Williams. It's totally not what I expected because it's different to go alone as a startup or to go as part of Hamburg Startups delegation and group. It just put us on another level as we joined events with Sanja (co-founder of Hamburg Startups) and visited networking parties, so the support you gave us was amazing.
What can they expect? a) crazy networking; people are really open to meet and that's what it's about, build international relationships and partnerships. b) all the hotels are open for you to meet with people so it's really easy to meet. c) So many side events and workshops that you will meet plenty of interesting people, if you keep your mind open.
And really great music and vibe!
Thank you for the interview!
Apply now for the Startups@Reeperbahn Pitch 2018!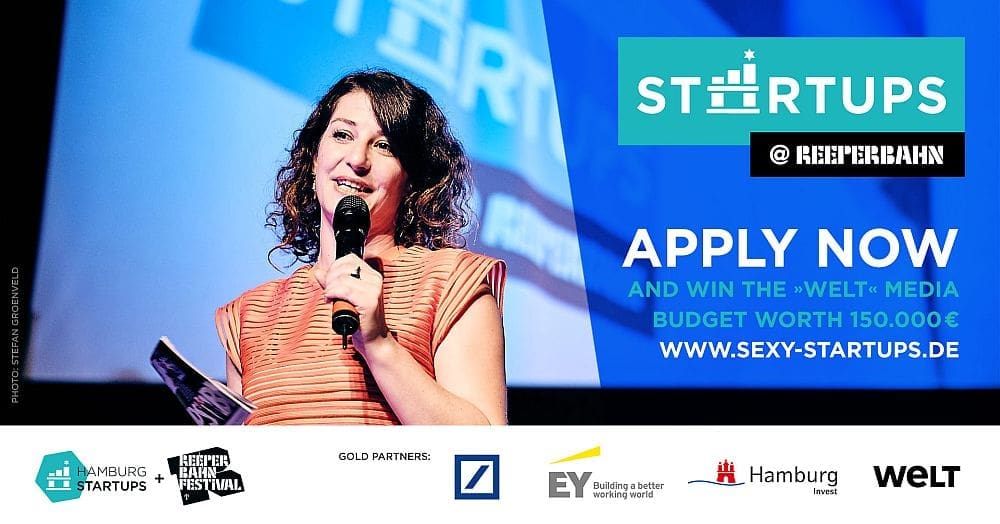 On September 19th, 2018, the sixth edition of the Startups@Reeperbahn Pitch will take place at the Hamburg music club Gruenspan. Five startups from all over Europe will present themselves to a top-class jury at the competition organised by Hamburg Startups. The winning team gets the WELT Media Award – a media budget worth 150,000 euros – and a trip to the SXSW Festival in Austin, Texas. Application deadline is August 10th. Here you can find all further information about the event. What happened at the Startups@Reeperbahn Pitch 2017 is shown in this video:
Startups@Reeperbahn 2018 – APPLY NOW

+++ STARTUPS@REEPERBAHN 2018+++ APPLY NOW ++++On September 19th 2018, the sixth edition of the Startups@Reeperbahn Pitch will take place at the Hamburg music club Gruenspan during the legendary Reeperbahn Festival. Five startups from all over Europe will present themselves to a top-class jury at the competition. The winning team wins the WELT media award – a media budget worth 150,000 euros – and a trip to the SXSW Festival in Austin, Texas. More than 150 investors are waiting to get in touch with the finalists. Application deadline is August 10thEN: http://en.hamburg-startups.net/startupsreeperbahn-version-6-0/DE: http://www.hamburg-startups.net/startupsreeperbahn-2018-pitch/

Gepostet von Hamburg Startups am Donnerstag, 12. Juli 2018