Qualitize and Nordantech go to SXSW Festival!
Hi-ho, Texas, here we come! On Monday, in the crowded betahaus the decision was made which two startups are going to to travel to the SXSW Festival. In a high-class and entertaining pitch Qualitize and Nordantech could inspire the audience the most. Let's sum up a great evening!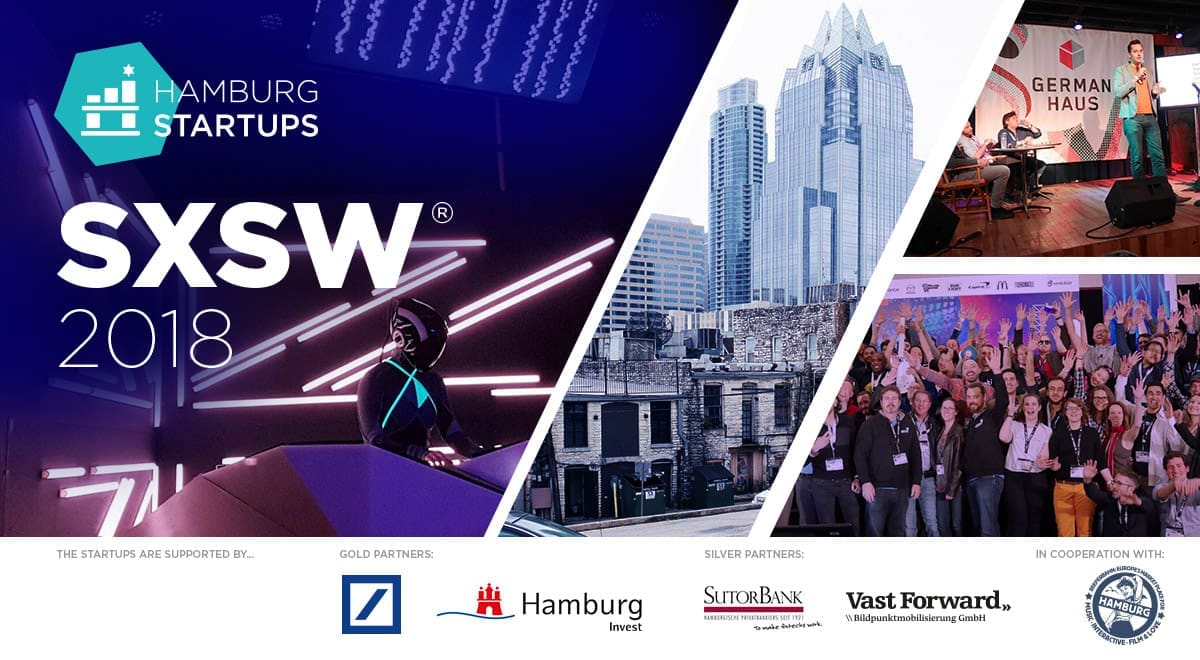 How do I get to the SXSW Festival in Austin, Texas, don't get lost there, have a lot of fun and also make important business contacts? These and many other questions were answered by the experts Sanja Stankovic (Hamburg Startups), Timo Wiesmann (Interessengemeinschaft Hamburger Musikwirtschaft) and Johannes Everke (Hamburg Marketing) at the start of the big SXSW evening.
Concentrated expertise was on stage, as Hamburg has been present at the megafestival in the Texas capital for more than ten years. For the fifth time, in 2018 Hamburg Startups accompanies selected startups to Texas and gives them valuable tips. After all, the SXSW is so overwhelming that visitors without previous knowledge quickly lose their overview and miss important events. Therefore, the most important advice is: Prepare yourself thoroughly and in time for the extravaganza!
Popular meeting places at SXSW: Reeperbahn Hamburgers and German Haus
This applies of course to tickets, flights and accommodation, but also to the planning of events on site. Most of the startup topics take place at the Austin Convention Center and in the neighbouring Hilton Hotel, and the "Reeperbahn Hamburgers" is a particularly popular meeting place for visitors from Hamburg and international contacts. There the Hanseatic city shows its best side and offers ample opportunity for networking with delicious "Hamburgers". We also recommend a visit to the "German Haus" at the Barracuda, a club in the heart of the self-appointed live music capital of the world.
There is a lot more to tell about the SXSW, and we will do so later on in this blog. Now we get to the highlight of the evening. Many guests had already come to the info warm-up, but afterwards it got even more crowded. Well over 200 people had registered to participate in the "Hamburg Startups Mixer – SXSW Edition", and despite constant rain and a cold wave most of them came.
A special pitch for a special event
They were offered a very special kind of pitch. Not the usual PowerPoint presentation with a business plan, but a concise elevator pitch in which the candidates had to explain within 60 seconds what the essence of their startup would be. Immediately afterwards, the "Austin-stress-test" that was developed especially for this format took place. This test consisted of a series of spontaneous questions, which our finalists had to answer just as spontaneously and promptly.
Freya Oehle, who had the chance to go to Austin for her startup Spottster in 2016, posed these questions. Unfortunately there is no more Spottster, but be sure Freya has her next company just around the courner. She's a bit of a positive weirdo and fits beautifully to Austin (motto: "Keep Austin weird") and the stress test. Although, the six finalists seemed not to be stressed at all. For some of them it was even the first appearance of this magnitude ever, but nobody noticed that. Confident and in the best English, they got to the point of their business model in the given time and had an answer to every question.
Matching the elevator pitch, we now introduce the six candidates in fast motion. By the way, the order of their appearance was decided directly before the performances by drawing lots. First was Kultida Thongyaem from Cherrydeck. This is a platform that can be called the "Yellow Pages for Instagram". Kathrin Kistner then entered the stage and introduced her startup Qualitize, which brings market research to the retail trade with touchpad terminals.
Women were in the majority in the final
Next up was Sofia Kermas, who offers Miraminds, a program for software tutorials. Wait a minute, so far only women in competition, and with IT-heavy concepts? Sure, that's fine, but of course men have also got their chance. Janós Moldvay, for example, who uses AdTriba to determine when and where online advertising really works. Or Christian Kuhs, who represented Nordantech. This startup ensures that nothing goes wrong with project management. In between Stefanie Langner explained the easy to handle website tests of Leankoala.
After all of them had put their performances behind them, had emphasized the advantages of the beautiful rain city of Hamburg and had revealed their plans to conquer the world, the great moment of the audience arrived. At the entrance, each guest had been given two (fake) 100,000 dollar bills, which could now be distributed to the six candidates. Who was the most convincing, who came across the most sympathetic? In the end, it wasn't necessarily the most promising business model that was sought, but the person who seemed to be most suitable for the network marathon in Austin.
The audience chooses Qualitize and Nordantech
After carefully counting the bills, the tight result was definite: most votes were given to Qualitize, followed by Nordantech! Both are now going to Austin an will visit the Interactive part of the SXSW Festival, which will take place from March 9th to 13th and is especially exciting for startups. Inspirient from Berlin, winner of the Startups@Reeperbahn Pitch, and Sceenic from London, qualified for the SXSW Accelerator Pitch and a former participant at the Next Media Accelerator Hamburg, will also be present.
We would like to thank everyone who made this wonderful evening possible!
Now such a successful evening and even more so a prize as valuable as a trip to SXSW would simply not be possible if we didn't have such great partners which support us energetically and enthusiastically. Our sincere thanks go to Deutsche Bank, Hamburg Invest, Sutor Bank and Vast Forward. Without them, Austin would never know what fabulous startups there are in Hamburg! Many thanks also to betahaus as a perfect venue, to Freya Oehle for the great moderation, to the attentive and keen audience and of course to the finalists. From now on we are in preparation crunch mode and really looking forward to SXSW!