Tamara Muñoz: Mission "Loving Languages" at bab.la
Hamburg Startups: Can you introduce yourself in a few words to start off?
Tamara Muñoz – Spanish language aficionado and tortilla specialist: I have always been a travel addict, a daydreamer and quite restless, or as we say in my country, un culo inquieto. Therefore, having recently graduated, I moved to Hamburg one year ago hoping to brush up the little German I knew, and to gain my first working experience abroad. So far, I seem to be on the right track in fulfilling both goals!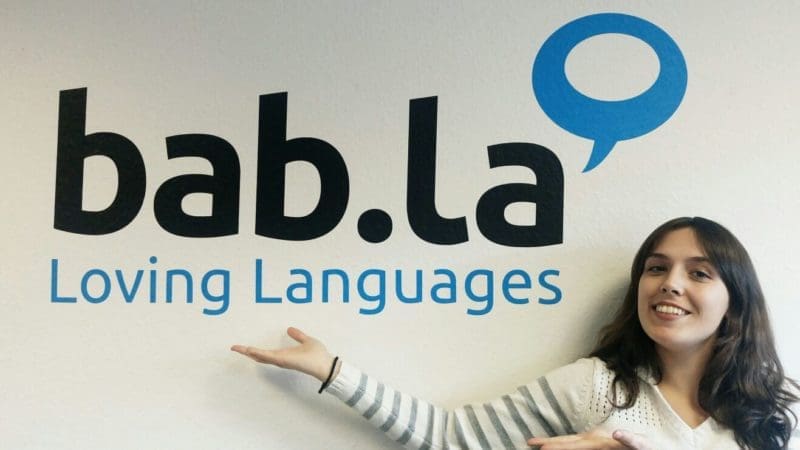 HS: What's your role at bab.la?
TM: At bab.la I am the online marketing manager, although sometimes I take care of the Spanish content of the website too. My main focuses are SEO, public relations and social media campaigns.
HS: What do you see as benefits from working for a startup?
TM: The office atmosphere is the greatest advantage by far. You actually get to know the people you work with at a personal level, which promotes bonding and makes working together much easier and enjoyable.
HS: How do you like Hamburg as an expat?
TM: Hamburg is simply full of life. I love it! Every week there is something going on. For example, a movie festival, a business fair, a massive flea market, a food truck market, a St Pauli game, a street dance festival, and the list goes on. Culture for all tastes! There is nothing I can complain about in terms of leisure. Additionally, the city is very well organized and the public transport works perfectly. Price-wise, Hamburg is said to be among the most expensive German cities but I honestly don't see much of a difference in comparison to big cities in Spain, where I come from. What is really tricky in Hamburg is finding accommodation, since there is a rental housing shortage. Therefore, if you plan to move here it is highly advisable to start looking for a flat well in advance.
HS: As a non-native speaker of German, how were your first days in Hamburg?
TM: Like all beginnings, mine was tough. Back then, I had a very basic knowledge of German which didn't suffice to interact with the locals properly. However, Hamburg being such a cosmopolitan city, I didn't struggle much to find people who could communicate in English. And I must admit that this feels like a breath of fresh air when you've just landed on foreign soil and barely know a few words of the local language. Once settled in the city, I joined a German course that I attended during my first 6 months here. Since then, I have kept studying on my own and practicing with natives whenever possible. At the moment, I am able to get by in everyday situations, such as doctor's appointments. However, since the working language at my company is English, I am not as fluent in German as I would like. It is just a matter of time and practice that I reach my desired level, though.
HS: Many thanks for your time and the lovely interview, Tamara!