What is pocketstory – startup review
Pocketstory is a portal for you to read articles from magazines. No need to purchase a complete magazine, usually full of advertisements, you can pick whichever articles you fancy and buy them à la carte.
What are the products?
The product is a portfolio of articles you pick from a selection of German magazines and newspapers. Whether you are a computer person or more of a mobile user, you can read your articles either on desktop or on mobile (the app is available for free on the Apple Store and for Android.) All you need to do to get started is to create an account, enter your credentials and you're all set to purchase articles of your liking. The price of the articles vary – it seems to be indexed on the amount words/characters the article contains – but the ones I have seen never seem to exceed €0,70. Articles are suggested according to what you are likely to read next, but you can also filter them by genre or by publisher.
John's opinion
The idea of buying articles individually is rather smart in my humble opinion. How many times have I asked myself why almost 50% of a magazine's content is not relevant to me? And still I pay for it. The technical aspects of the site and the apps still feel a bit flimsy. The layout and the design are not quite to my taste, although the app felt more up-to-date with nifty options for an optimal reading quality. I think I would be more likely to read with the app. Actually, it is a very good way of always having something to read in your pocket, without wasting time at the newsstand. Not to mention you have access to many magazines and it weighs nothing!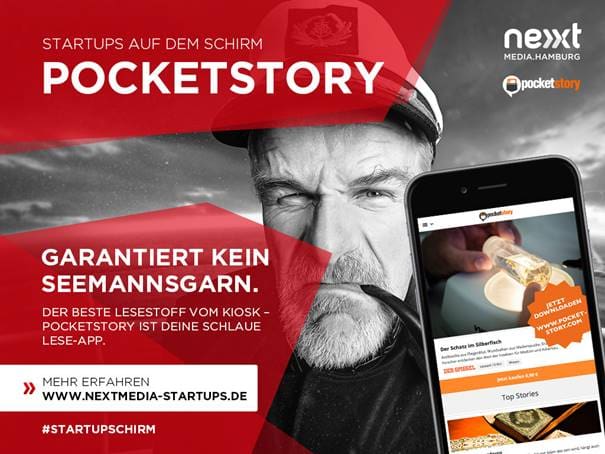 Regarding the selection, I would regret the limited choice of titles in two directions. First, there are no international newspapers or magazines as yet, so this product is of little use if you don't speak German. Second, I would have expected more press titles to be in partnership with pocketstory. They don't have Neon, which is fine, but there are no tabloids, no regional papers,… Let's hope this will get better over time!
Any jobs at pocketstory?
No job page to be seen as yet!
Contact details
Are you looking for more information about this startup? Check our
startup monitor
!
"Pardon my French" is a column about startups by John Barré. It is a personal opinion about ideas and concepts. Whether the business model is  tangible, the layout of the website enticing, or the user journey a pleasant path, all of these (and much more!) are scrutinized and summed up according to John's viewpoint.