Hamburg was at the SXSW and that's how it was
The SXSW-Festival 2017 is now over, and Hamburg startups that had made it to Texas are back in the Hansestadt. Time to take a look back on these few unforgettable days!
One thing has become clear on their trip to Austin: in America, everything is BIG, of course, and a festival like the SXSW is no exception. And you can quickly lose the overview. Fortunately, Sanja Stankovic, co-founder of Hamburg Startups, had already prepared a lot for the travelers in advance, from coaching and access to relevant events, to speaker options, and she was always there for advice and support. Our great partners from Deutsche Bank, EY, Sutorbank, XING and fischerAppelt – along the travel fonds of Baqend, nüwiel and Horseanalytics – made this comprehensive support possible.
Be spontaneous, take advantage of any opportunity – all this is part of such an event. On the one hand. On the other hand, however, there is also a somewhat structured approach, because some coincidence can be planned, somehow. That is why before the start of each successful trip:
Gettin' ready
The SXSW offers an incredible amount of events in many places, which can not be reached within five minutes on foot. So how did our startups prepare? Perhaps not always in the best ways, as Luke Posniak of PuttView admits. However, he heard of the experience that Matthias Lau from connected-health shared with him:
"The best contacts were spontaneous and usually without planning."
Daniel Raschke of Picalike would have liked to know more about this in the run-up, but there was no time for it. Fortunately, there are Hamburg startups:
"Without the information and help of Hamburg Startups on site, I would have been completely lost and am very grateful that we could participate in it,because that made the event much more efficient for us."
Likewise, the team of Nüwiel benefited from our tips about how to make the best of an overloaded program. Felix Gessert of Baqend added that planning in advance should be limited:
"We were advised in advance not to block more than 25% of our time with appointments, so that we are flexible enough on the spot. We held on to it and it paid off."
Enri Chantal Strobel from HorseAnalytics had a place in FlyingLab of the Lufthansa and enjoyed a flight to Texas with many "mini conferences" on board. Either way, a certain degree of planning is essential for the SXSW.
Great Expectations
"Inspiration, network, US contacts," Daniel puts it on three points. The others can only agree to this because the opportunity to get to know international investors and business partners is probably nowhere as big as at the SXSW. And were the expectations fulfilled? Mostly, as far as the quality of the speakers and lectures is concerned.
Felix, however, complained that the crowds were often so great that one could not get what was going on. Enri was overwhelmed by the PR work and was happy to have Sanja's support, who had already supported Tinnitracks with the press in 2015. The offer was not particularly convincing. Matthias was enthusiastic about the performance of billionaire Marc Cuban, but the overall quality of the talks left something to be desired. And Luke, who uses the Augmented Reality technology with PuttView, was amazed at how underrepresented his specialty was in Austin, as the focus was on Virtual Reality.
Events
The list of events where our startups were is really long. Of course, as a Hamburg delegate and therefore representatives of our ecosystem, the official Hamburg events are on the agenda: the Reeperbahn Hamburgers, the matchmaking Hamburg TexConnect or the Digital Media Women Day. Hamburg Startups was there as a partner and thanks to the Sutor Bank, we were able to present the Reeperbahn Burgers on Saturday. And, of course, the #Meatup on the rooftop of the steak restaurant Fogo de Chao, to which the startups as Hamburg delegates were granted access. There were various networking events in the Sparks VIP Lounge at the Capital Factory; the Women Entrepreneur's Lounge or the FundingPost Venture Dinner. Various events in the country houses "German House" or the "Dutch House". And the Austin Rodeo. And much, much more.
And who do you get to meet? Of course many Americans and other startup enthusiasts from all over the world. But also Germans and that is also good. With all the ambition to make as many international contacts as possible, a familiar language and familiar faces sometimes work wonders and you get to approach German big names. And it is not always just about business, as Natalia and Johanna from Nüwiel confirm:
"Personally, we liked the panel of the Human Rights Foundation a lot. Very moving. The idea to use the SXSW as a platform to find new solutions and how to get information in isolated areas was something very inspiring."
Jonathan Kurfess from Appino was excited about the events of Joe Biden, Cory Richards and Van Jones. And some concerts – after all, the SXSW is alsoa great music festival!
For Enri, of course, the highlight is the event in which she play a major part, even though she did not win in the end:
"First of all, of course, the SXSW accelerator. Here, I was able to pitch HorseAnalytics in front of several hundred potential customers and also showcase our products to the visitors of the SXSW during an exhibition."
Special Feelings and Typical Texan
The whole SXSW is a gigantic experience, which sometimes brings its visitors to the brink of the challenge. And then there are those little moments and random remembrances that remain in the memory. Lukas, for example, has met RTL's chief editor in a queue. The Nüwiel team was delighted to meet journalist Brady Dale of the Observer, and Felix rejoiced about a customer now expat in Austin, who gave him valuable contacts.
In addition to the already mentioned rodeo, where the national anthem was fiercely sung, one thing you cannot escape when visiting Texas: a real barbecue. This is also helpful to understand the mentality of Americans, Daniel says. Felix especially recommends Stiles Switch and Lambert's as a BBQ place. Sanja and Daniel are clear fans of Smitty's BBQ in the small town of Lockhart. Food is a a great ice-breaking topic anyway, and not just in Austin. There were many voices to listen to, the food startups of all kinds for the next big thing held.
Curious encounters do happen; Jonathan had to go on his bike in the middle of the night with a dead cell phone to meet the founder of the music startup Groovecat in the middle of nowhere. After that, they worked together at the conference. And Matthias had not only a great conversation with the CTO from MI7, he also received an umbrella. Very helpful, because on Saturday it rained heavily.
Conclusion: "a unique experience"
In all the events, our startups could of course make many interesting contacts, to press representatives, possible future business partners and perhaps even investors. What ultimately emerges from this cannot be said at this time, but the interest of the international audience in the startups in Hamburg was definitely there. Johannes Everke, Marketing Director at Hamburg Marketing and since the beginning supporter of Hamburg's activities on site, summed up:
"We can be really proud that we had a Hamburg founder in the Accelerator for the third year in a row. Horseanalytics and the other six Hamburg startups not only represented Hamburg in an outstanding way, but also received international recognition and have given a first-class representation of our innovative location."
The preliminary conclusion is extremely positive. Luke felt "a bit knocked out", but can imagine going back next year again, then as a speaker perhaps. Daniel explains that he has done well with the support from Hamburg. And he is thankful for the on-site support, just like Felix:
"Many thanks to Hamburg Startups and the sponsors Deutsche Bank, EY and Sutor Bank, who supported the whole project financially, with preparations and on-site support."
Jonathan certainly not only speaks for himself when he draws the following conclusion:
"Hamburg has got the reputation of a unique startup community: The city of Hamburg has made this unforgettable trip to the SXSW and Hamburg Startups, thanks to the great support on site in Austin, the conference was really valuable and eventful. We were able to make some new German and international contacts with investors and potential customers, get to know other founders and take a lot of inspiration and ideas, which we will surely be beneficial in the future. SXSW was the best conference we got to attend so far – thanks for that and well done to the Hamburg startup community! Next year, you can count me in again!"
And for Nüwiel, the trip to Austin went very well:
"For us, it has once again proved that there is a demand for our intelligent, electrically-powered bike trailers in the USA."
In general, we can say that every startup at the SXSW was well taken care of,. This required some preparation and planning, otherwise the South by Southwest can quickly become very confusing, and you only find out afterwards about all the things you missed out on.
With which we would already be in our last category:
Insider Tips
Here comes a gathering of a few tips we collected from our participants about the Texan event:
Start preparing early. Hotels are booked out fast and then get really expensive.
Don't forget to practice your pitch. Americans have a different idea of pitching. Practice, practice, practice!
Have a good time, be curious and check out events and people who act outside of your core business.
Don't forget to rely on Hamburg Startups if you're caught in the SXSW jungle.
Make a list of the conferences you want to attend, come early to get near the stage and get a hold of the speaker at the end of the event.
Do not underestimate the seven-hour time difference and the American food.
Last but not least: "In Austin you always expect the unexpected."
More pictures on our Facebook Album "Hamburg Startups #FotoLiveStory at the SXSW 2017″!
Hamburg Startups at the SXSW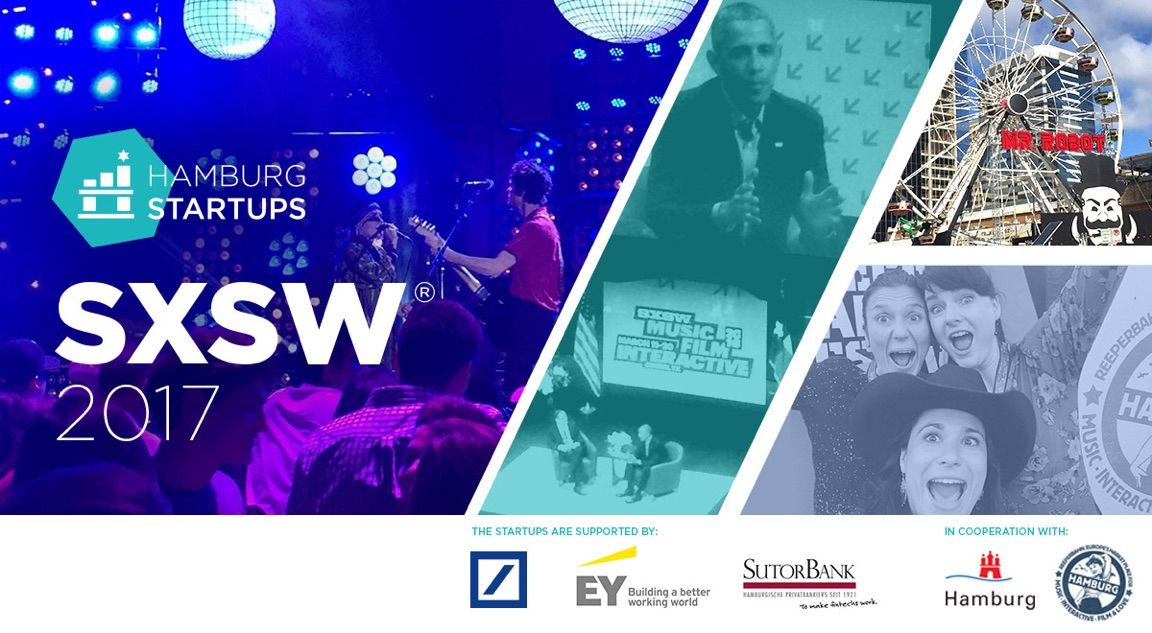 Hamburg Startups have built themselves a respectable image on the South by Southwest Festival (SXSW) in Austin, Texas. Hamburg Startups has been a partner for Hamburg startup activities there and, this year again, it drafted an exciting program for startups.
That is how Tinnitracks as winners of the Startups@Reeperbahn Pitches traveled to Austinchosen by the coveted SXSW Accelerator . In 2016 Baqend got itself a double victory at the Startups@Reeperbahn Pitch and thus directly secured their trip to Austin in March.Together with our partners the Deutsche Bank , EY , the Sutor Bank , XING and fischerAppelt we will send two other startups (Nüwiel and HorseAnalytics) on the trip to Austin, along Baqend. HorseAnalytics even took part in the SXSW Accelerator and made a proud runner-up!